Regular Habitats
These habitats are all available to you from the beginning of the game, with the exception of the coral reefs, which you can't use until you have collected 60 creatures. You can get this terrain by sunning or watering the tiles.












Special Habitats
The following habitats are only available through a visit from the botanists. You get some options you can scroll through (probably not everything listed here, though). They all occupy multiple tiles. Scroll using the circular arrow through the habitats you are offered.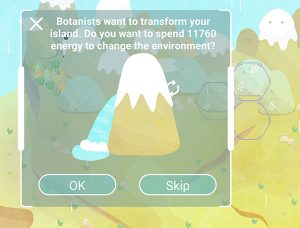 The options you get at any given time seem to vary based on availability of the terrain these habitats require. The existing terrain must be compatible. Careful not to place a special habitat on the tile of a creature it can't support if you value that creature. You can turn the special habitat back into regular habitat tiles if you allow or force it to dry out.
These habitats can only be created on the main island. All of them unlock new non-legendary creatures (except volcano, which only unlocks a legendary one). You will only detect these new creatures if you search the following habitats and the tile you search meets their food and elevation needs. If you really want to know what legendary creatures are to be found and where, see Legendary Creatures.
How to Get & Unlocked Creatures
| | Habitat | Requirements to Create | Species Unlocked (Non-Legendary) |
| --- | --- | --- | --- |
| | Waterfall | Snowy Mountains | Swan Goose, Falcon |
| | Volcano | Dry Mountains | |
| | Jungle(3) | Forest | Chipmunk, Woodpecker |
| | Jungle(7) | Forest | Chipmunk, Woodpecker, Sika Deer |
| | Savanna(3) | Prairie | Leopard, Lion |
| | Savanna(7) | Prairie | Leopard, Lion |
| | Wetland | Rainforest | Spoonbill |
| | Oasis | A center tile (at least Forest) surrounded by 6 arid tiles (can be desert or hamada, not gorilla territory) | Frill-Necked Lizard, Camel, Vulture |
| | Special | Not really a habitat (correct me if I'm wrong). Indicates a special creature. | |